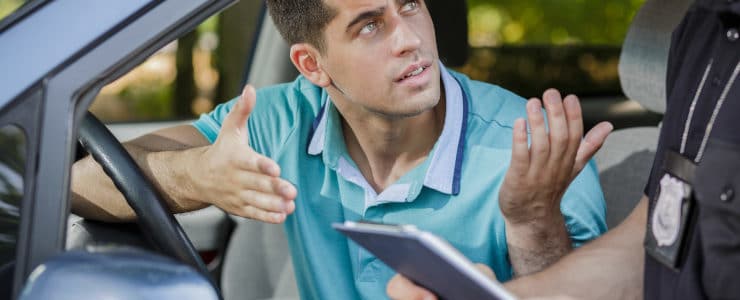 When an accident occurs on Nevada roadways the first thing people do after they are able to escape the wreckage is calling the authorities which may include an ambulance if medical help is needed or they will call the local police department. The police are called so that they can be the intermediate party between the groups that are involved in the wreck. Remember, it is illegal to leave the scene of an accident if you are involved.
They are called so that they can determine what exactly happened and who was at fault so that the one at fault will be cited. Society needs this because if it was not for a third party to assess the situation then the parties who were not at fault would be inadvertently punished for the accident they did not cause. Having an outside group such as the police department keeps car accidents in order and ensures that those who are in the right do not get wrongfully punished.
Sometimes things can happen though or judgments are made when the police are incorrect. Regardless of the situation, citizens of Nevada are not allowed by law to disobey a law enforcement officer while they are doing their job.
Southern Nevada has multiple law enforcement agencies which may include the Henderson Police Department and North Las Vegas Police Department. Both entities patrol their unique jurisdictions covering the boundaries of their respective cities. Nevada Highway Patrol is a state entity that covers the highway systems throughout the state. Most notable in southern Nevada are the highways of Interstate 15 and Interstate 93.
Those are the main thoroughfares that travel north and south as well as east and west. Interstate 2-15 is the newest highway and that is essentially a big circle that runs around the city. All of these highways are under the jurisdiction of the Nevada Highway Patrol (NHP).
Their headquarters can be found near Alta and Rancho drives but they also have many buildings and area commands throughout the Las Vegas Valley. Each area command has certain boundaries that they cover and between all of them, the entire city is patrolled twenty-four hours a day.
There are also numerous smaller police forces in the area which include Boulder City, Overton, and even a couple of Indian Reservations that have their own force. Most notable are the Paiute and Moapa tribes.
There is a lot of interaction with law enforcement whether it be from their proactive patrolling, a car accident, or getting a traffic ticket. In at least two of these scenarios, the situations can be very stressful.
No one is happy when they are involved in a car wreck knowing that they have to deal with insurance rate hikes, rental cars, and many other things the normal person simply is not used to. When getting a traffic ticket, itis not only stressful but also annoying.
Most people are good drivers (or at least try to be) but once in a while a mistake is made and if that mistake is witnessed by a police officer then a ticket will be issued.
For similar reasons to a car accident, when people get nailed with a ticket they know traffic school might be in their future along with higher insurance costs, court appearances and more. It can be easy for someone to disobey or disrespect a police officer in their moment of stress and anguish but that is not allowed per Nevada law.
The Nevada Revised Statute referencing this is NRS 484B.100 and is titled "Obedience to Police Officer". It specifically states:
It is a misdemeanor for any person willfully to fail or refuse to comply with any lawful order or direction of any police officer while the officer is performing the duties of the officer in the enforcement of chapters 484A to 484E, inclusive, of NRS.
If you are ever cited with a ticket for disobeying a police officer you should seek out legal help with Ticket Busters.
Whatever you do, you definitely never want to blow off the ticket. Even if your issue is a minor one, judges tend to issue bench warrants against those who ignore their tickets regardless of the severity. When you contact Ticket Busters, we will set up an initial consultation with you to get all of the details regarding your ticket and what happened for you to be accused of disobeying the police. We will come up with multiple defenses that could include different topics.
Common Defenses for Disobeying a Police Officer
Emergency
If there was an emergency going on that caused you to disobey the directives of the police, then that could be a viable reason for your actions. Although you did not want to disobey or disrespect the police officer, it may have been your only choice to prevent another accident or help someone who was in a dire situation.
Intentional vs. Unintentional Disobedience
In these stressful situations when an emergency situation is occurring (such as a car wreck or immediately after the accident), some people get flustered. You may have disobeyed what the officer was telling you but perhaps it was not deliberate. When some people get flustered they do not hear everything and often do not act with a clear head. It is not intentional but is simply an effect of the abnormal situation that just happened.
Doing Your Best
Sometimes a person can do their best and still not be in full compliance with the orders that a police officer gives. For example, if a policeman tells you to move your car to a specific area after a car accident and you are unable to due to debris or are afraid to as it might cause more damage then are you really disobeying?
Possibly, but this is something that your legal expert at Ticket Busters will look into and will make a case in your favor if that is determined.
It is important to note that under this statute you must comply with law enforcement when they give an order involving traffic. Their instruction will trump any signage or traffic signals. So if there is a green light and but a cop is telling you to stop, you need to stop or you will be issued a traffic ticket for violating NRS 484B.100.
As an example, the police will often direct traffic after a large event such as a Vegas Golden Knights game or one from the Las Vegas Raiders. The Golden Knights play near the Strip in their arena and that area is already congested let alone when 18,000 people all leave simultaneously.
The arena can be found between two major casinos and has Las Vegas Boulevard to the east and Frank Sinatra Way to the west. Fans try to get out of the area as quickly as possible to reach interstate 15 or the surface streets such as Tropicana Ave or Flamingo.
If you are exiting the area in your vehicle and see a sign that says "Do Not Turn Right" but a traffic officer is directing you to turn right then you need to do so. Violating the commands on the sign is acceptable since you are obeying the police officer. If you ignore the officer's directive and do not turn right (as the sign tells you to do) then that is a violation and you can expect a ticket.
Getting cited for disobeying the police can be quite expensive. It is only considered a misdemeanor, but no one wants that on their record.
The fine for getting a ticket like this will range in price depending on where the ticket is issued. As of this writing, the fine is cheaper in Reno than it is in Las Vegas where the fee could be up to $305. Because this is a misdemeanor, you could be sentenced to jail time of up to six months.
The maximum jail time is unlikely unless you have had multiple citations and show a pattern of violating the laws in Nevada.
Issued a Traffic Ticket?
As you can see, it can be easy to disobey a police officer especially when you are in a unique situation that you are typically unaccustomed to.
If you do get a ticket you will want and need help. Getting a hold of Ticket Busters as soon as you can after the ticket was issued will help your case. Our legal team will draft up a plan after our first visit and will work to get your case resolved in a timely manner that will not cause additional stress to you.
After getting the details, we will most likely be able to come up with a defense that serves as an explanation as to why you did what you did. As we covered in this article, disobeying a law enforcement official is not always deliberate or egregious. If your actions fall into that category then we will be sure the legal system knows that.
Frequently Asked Questions
Can I dispute a traffic ticket for disobeying an officer?
Yes, you can. If you feel that your compliance would have caused damage or put your safety in danger then enlist the help of Ticket Busters to make your case.
What should I do if I get cited for disobeying an officer?
If you receive a traffic ticket for disobeying an officer, it is important to contact Ticket Busters as soon as possible after you receive the citation. Our experienced legal team will provide you with a sound defense and work tirelessly to ensure that your case is resolved without causing any unnecessary stress or hardship.
Is disobeying an officer a misdemeanor?
Yes, disobeying an officer is considered a misdemeanor. Depending on the circumstances, you may be fined up to $305 or face jail time of up to six months. It's important that you take this offense seriously and enlist the help of Ticket Busters right away so that we can build a strong defense on your behalf.