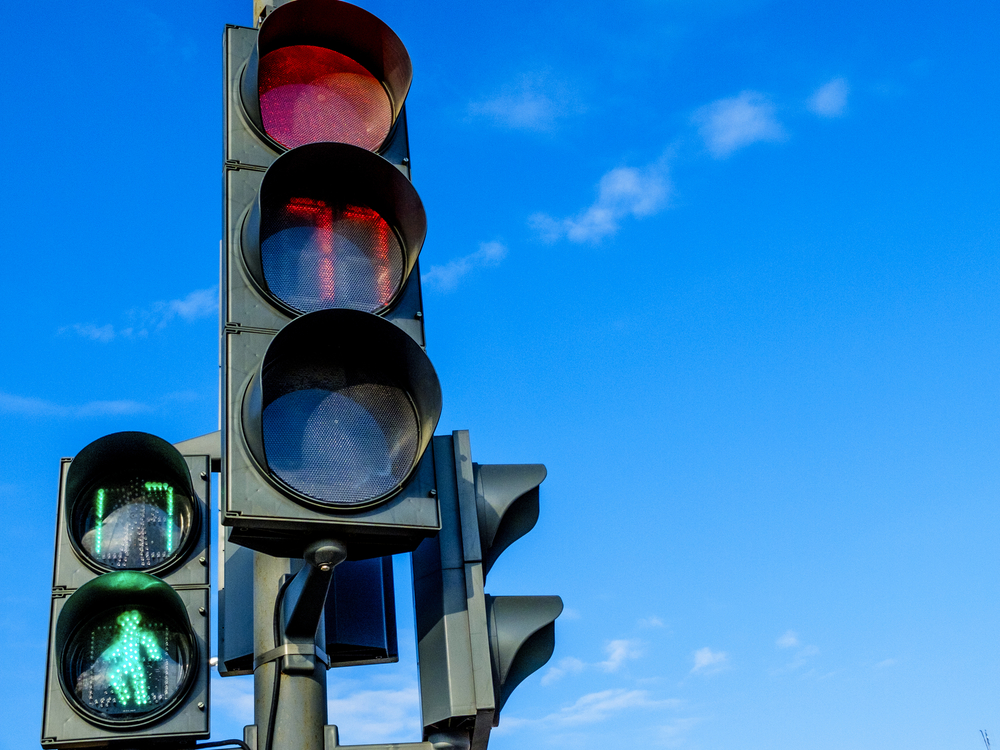 If you were approaching a traffic light and knew the number of seconds left before the light would change, would you be more or less likely to slow down rather than run the intersection hoping to get there before the change? Interestingly enough, new studies say you would be less likely to do so. At the same time, several countries around the world are installing countdown traffic signals, and one vehicle manufacturer, Audi, has released a new system in their vehicles that, incidentally, only works in Las Vegas currently.
Las Vegas a pilot city for V2I technology
This system is known as V2I, which stands for Vehicle to Infrastructure, actually communicates between the vehicle and the traffic light control system and displays a countdown when approaching a traffic signal, and calculates whether you'll arrive at the intersection before the signal changes. The V2I system is part of the move toward autonomous vehicles, and is being provided by the Regional Transportation Commission (RTC) of Southern Nevada.
Tina Quigley, General Manager of RTC, states: "The Regional Transportation Commission of Southern Nevada is proud to be the first in the nation to connect our traffic signal network to vehicles through our collaboration with Audi. This vehicle-to-infrastructure technology will help reduce congestion and enhance mobility on our already crowded roadways. Beyond the glitz and glamour of the Las Vegas Strip, Southern Nevada continues to lead the way in transportation technology creating smart cities and communities for our residents and visitors."
V2I will support other vehicle features, and will form the backbone for implementing autonomous vehicles in the future. Other cities in the United States are in the process of implementing V2I systems, but Las Vegas was selected by Audi as the pilot city for their new system due to the progress made by the city in implementing this technology.
Could a countdown timer work without V2I?
However, even without the V2I system, or an Audi, there are huge advantages to informing a driver of when a light will change. In a series of studies performed by researchers at Oregon State University, it was found that red light running was reduced by 13 percent when a countdown timer was used and that speed was reduced by drivers approaching an intersection with a countdown timer.
About two dozen countries around the world are actually placing countdown timers on the traffic signal itself. This video demonstrates how it works. Unfortunately, the U.S. Department of Transportation has not approved their use in the U.S.
Ticket Busters is here to help you with your traffic tickets
With or without countdown timers, if you receive a ticket in Clark County, Nevada, we can help you reduce the penalties associated with the ticket. Most moving violations can be negotiated by our attorneys with the appropriate court, and may be reduced to the equivalent of a parking violation. This saves you the time needed to go to court, points on your driving record, and increases in your insurance premiums. If you got a ticket, let us bust it for you… call or you're your ticket today at (702) 666-6666.
Ticket Busters and the Richard Harris Law Firm are not affiliated with, nor do we endorse, Audi or any other vehicle manufacturer. Their mention in this article is for information purposes only.
Read More:
https://patch.com/new-york/patchogue/bp–we-need-traffic-light-countdown-timers
http://www.sciencedirect.com/science/article/pii/S1369847816301292?via%3Dihub#!
https://www.engadget.com/2016/12/09/audis-traffic-light-countdown/
https://www.extremetech.com/extreme/240264-hands-audis-exciting-no-really-traffic-light-countdown-timer