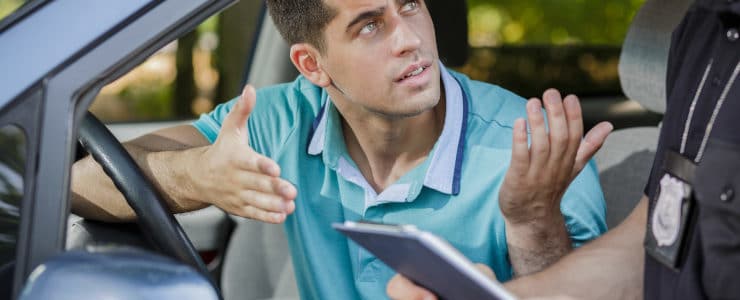 As a driver in Nevada, it's important to understand the various types of traffic violations and their consequences. While moving violations like speeding and running red lights are commonly known, nonmoving violations can also carry significant penalties.
You can learn more about the difference between a moving violation and a non-moving violation here.
In this article, we will delve into nonmoving traffic violations in Nevada, including their definition, common examples, penalties, defenses, and why it's important to fight the ticket instead of simply paying it.
What Are Non-Moving Violations?
In Nevada, nonmoving violations refer to infractions of traffic laws that are unrelated to the vehicle's motion. These violations encompass a range of offenses, including parking violations, equipment-related violations, driving without proper documentation, and failure to comply with safety regulations.
Nonmoving violations are typically considered less severe than moving violations but can still have consequences such as fines and other penalties.
Distinction Between Moving and Nonmoving Violations
While moving violations occur when a vehicle is in motion and are directly related to driving behavior, nonmoving violations can occur when a vehicle is stationary or in motion.
Moving violations, such as speeding or running red lights, are typically considered more serious and can result in higher fines, points on your license, and even license suspension.
On the other hand, nonmoving violations generally carry lower fines and may not result in points on your license.
Common Nonmoving Violations in Nevada
Understanding the most common nonmoving violations in Nevada is crucial for maintaining compliance with traffic laws. In addition, penalties for nonmoving violations can vary depending on the violation, so it's important to familiarize yourself with these traffic laws.
And if you are a visitor or tourist, something you are accustomed to at home may be quite different in Nevada.
Here are some of the more common nonmoving violations to watch out for:
Illegal Parking
Illegal parking is one of the most prevalent nonmoving violations.
It includes parking in no-parking zones, blocking driveways, or exceeding time limits in designated parking areas.
You can even a ticket for parking too far from the curb.
Violating parking regulations can result in fines and potential towing of your vehicle.
Expired Plates
Driving with expired license plates is a nonmoving violation and can lead to fines and penalties. It is essential to renew your vehicle's registration and obtain new license plates before they expire to avoid this violation.
This is what we mentioned above that despite "moving" or driving your car, this is actually a nonmoving violation.
Driving Without Insurance
Operating a vehicle without valid insurance coverage is a serious offense. Nevada law requires drivers to have minimum liability insurance to protect themselves and others on the road. Driving without insurance can result in fines, license suspension, and potential legal consequences.
Driving Without a Valid License
Driving without a valid license is a nonmoving violation that occurs when a person operates a vehicle without the necessary license or with an expired license.
This violation can lead to fines, license suspension, and other penalties.
Driving on a Suspended License
Driving with a suspended license is a severe offense in Nevada.
If your license has been suspended or revoked due to previous violations or failure to comply with legal obligations, driving on a suspended license can result in harsh penalties, including fines and potential jail time.
One of the most common situations with these types of violations is when someone does not pay their fines or show up in court for a moving violation, and then goes on to drive again.
There could also be medical reasons for a license being suspended.
Driving with Expired Registration
Operating a vehicle with expired registration is also a nonmoving violation. It is essential to renew your vehicle's registration before it expires to avoid this violation.
Driving with an expired registration can lead to fines and other penalties.
Note that according to Assembly Bill 303 (AB303), it is illegal for tow truck drivers to tow your vehicle just because of an expired registration. They can't patrol the streets, look for expired registrations, then tow your car.
However, if you were parked illegally and a police office called a tow truck, and you happen to have an expired registration, then that can be a different story.
Equipment-Related Violations
In Nevada, certain violations related to the condition of a vehicle are considered nonmoving violations. Some common equipment-related violations include:
Driving with broken headlights or taillights
Driving with faulty brakes or muffler systems
Driving without a valid emissions test
These types of violations can result in fines and the requirement to repair or replace faulty equipment.
Parking in a Handicap Parking Spot Without a Placard
Parking in a handicapped parking spot without a valid handicap placard is a serious violation.
Handicapped parking spaces are designated for individuals with disabilities, and using them without proper authorization can result in significant fines and penalties.
Driving Without Proper Child Restraints
Nevada law requires children to be properly restrained while traveling in a vehicle.
For example, a child 2 years old and under needs to be in a rear-facing car seat.
Driving without the appropriate child restraints can lead to fines and potential legal consequences.
Failure to Wear a Seat Belt
Failure to wear a seat belt is a nonmoving violation that can result in fines.
Seat belts are crucial for protecting drivers and passengers in the event of an accident, and it is essential to comply with seat belt laws to ensure your safety and avoid penalties.
Penalties for Nonmoving Violations
Nonmoving violations in Nevada can result in various penalties. These can include fines, traffic school, and court-ordered community service among others.
The exact penalties for a given violation depend on the severity of the offense and whether or not it was a repeat offense. In some cases, additional penalties may be imposed as a result of the violation.
It's important to note that in most cases, nonmoving violations do not carry points on your license. However, if you are found guilty of multiple moving and/or nonmoving violations, you may still be at risk for suspension or revocation of your driver's license.
No Longer a Criminal Offense
As of January 1, 2023, a law in Nevada took effect that decriminalizes traffic tickets. Previously, a person who failed to pay their traffic tickets could face jail time. On top of this, if you didn't pay for your tickets within a specified time frame, a bench warrant will also be issued.
Now, it is no longer a criminal offense to fail to pay your traffic ticket in Nevada; however, failure to pay can still result in more fines and other penalties.
Fines
Fines for nonmoving violations vary depending on the specific offense.
The amount of the fine will be determined by the court and may be influenced by factors such as the severity of the violation, previous offenses, and any mitigating circumstances.
It is important to pay the fine within the specified timeframe to avoid additional penalties.
Traffic School
In some cases, the court may require individuals to attend traffic school as part of their penalty for a nonmoving violation. Traffic school provides education on safe driving practices and may help reduce the impact of the violation on your driving record or insurance rates.
Points on Your Driver's License
Unlike moving violations, non-moving violations typically do not result in points on your driver's license.
However, accumulating multiple nonmoving violations can still have other consequences like a potential increase in insurance rates.
Defenses for Nonmoving Violations
If you have been issued a nonmoving violation ticket in Nevada, you have the right to defend yourself in court.
Here are some possible defenses for nonmoving violations:
Contesting the Violation
You can contest the nonmoving violation by presenting evidence that challenges the accuracy or validity of the ticket.
This can include providing proof that you were not at fault, demonstrating that the officer made an error in issuing the ticket, or showing that there were extenuating circumstances that justified your actions.
Gathering Evidence
Collecting evidence to support your defense is crucial when fighting a nonmoving violation ticket.
This can include photographs, witness statements, or any other relevant documentation that contradicts the officer's version of events or casts doubt on the validity of the ticket.
Consulting an Attorney
Seeking legal advice from an experienced traffic ticket attorney can greatly enhance your chances of successfully fighting a nonmoving violation ticket.
An attorney can review the details of your case, guide you through the legal process, and provide expert representation in court.
Benefits of Hiring an Attorney for Nonmoving Violations
Hiring an attorney to handle your nonmoving violation case can provide several benefits and increase the likelihood of a favorable outcome.
While you can simply opt to pay for your fine (which is usually done online), an attorney will be able to determine if you have a viable defense and fight for the best possible outcome.
An attorney may also be able to reduce the amount of your fine, get the ticket dismissed, or help you avoid points on your license. This can save you money in the long run and minimize any negative effects on your driving record or insurance rates.
Here are other ways an attorney can assist you:
Requesting a Contested Hearing
An attorney can request a contested hearing on your behalf, allowing you to present your defense in court. During the hearing, your attorney can question the officer, present evidence, and argue for a reduction or dismissal of the charges.
Negotiating with the Prosecutor
Attorneys skilled in traffic violation cases can negotiate with the prosecutor to have your charges dropped or reduced. They can leverage their knowledge of the law and their relationships with the prosecution to work towards a favorable resolution.
Representation in Court
Having an attorney represent you in court can significantly reduce the stress and uncertainty of the legal process. Your attorney will ensure that your rights are protected, present a strong defense on your behalf, and advocate for the best possible outcome.
Received a Non-Moving Violation Ticket?
When facing a nonmoving violation in Nevada, having the support and expertise of a skilled traffic ticket attorney can make all the difference.
Ticket Busters is a trusted law firm specializing in traffic ticket defense in Las Vegas, Nevada. Here's how we can help:
Our team of experienced traffic ticket attorneys has in-depth knowledge of Nevada traffic laws and a track record of successfully defending clients in nonmoving violation cases. We understand the nuances of the legal system and can provide you with expert guidance and representation.
At Ticket Busters, we are committed to providing personalized attention and dedicated representation to each client. We will thoroughly review the details of your case, develop a strategic defense strategy, and fight vigorously on your behalf to achieve the best possible outcome.
Our attorneys will explore all available defenses and negotiation options to maximize your chances of a favorable outcome. Whether it's challenging the accuracy of the ticket, negotiating for reduced charges, or presenting a compelling defense in court, we will work tirelessly to protect your rights and minimize the impact of the nonmoving violation.
Understanding nonmoving traffic violations in Nevada is essential for maintaining compliance with traffic laws and protecting your driving record. By familiarizing yourself with common nonmoving violations, penalties, and potential defenses, you can make informed decisions if you ever receive a nonmoving violation ticket.
Remember, it's crucial to consult with an experienced traffic ticket attorney like Ticket Busters to ensure the best possible outcome for your case.
Don't hesitate to reach out to us for expert guidance and representation in fighting your nonmoving violation ticket in Nevada.